Category: Colored Gemstone Testers
Duo Tester II
Details
The only comprehensive tool in the market that combines thermal conductivity and reflectivity indexes. Now with Presidium's Assisted Thermal Calibration (ATC) for accurate and consistent tests.
Adaptor Included.
Introducing Presidium's Assisted Thermal Calibration (ATC) function using newly redesigned in-built calibration discs to ensure accurate and consistent tests for both indoors and outdoors operation.

Presidium Duo Tester II (PDT II) is the only comprehensive tool on the market that combines two proven testing methods for gemstones. PDT II differentiates diamonds from its simulants based on both their thermal conductivity and reflective indexes. Coated gemstones can also be generally tested with the PDT II.
The Presidium Duo Tester II comes with a probe pen that has a retractable probe tip which ensures consistent pressure against the gemstone during testing for more reliable results. With the industry's thinnest probe tip size of 0.6mm, PDT II tests gemstones as small as 0.02ct.
*Does not differentiate between natural and synthetic colored gemstones.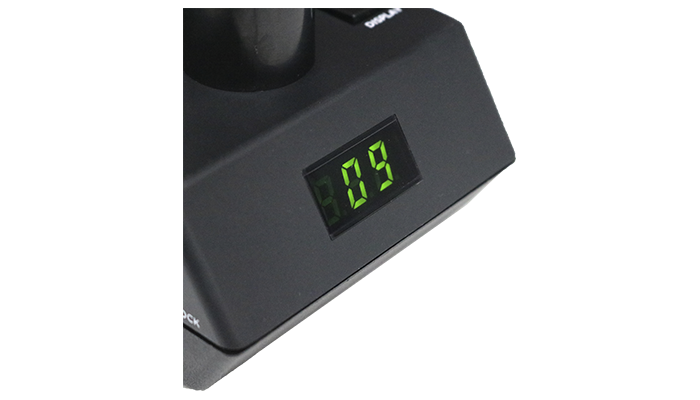 Features
Assisted Thermal Calibration (ATC)

Built-in Glass and Calibration (CAL) test discs for reference

Retractable thermoelectric probe tip that ensures constant pressure between probe and gemstone

Industry's thinnest probe tip (0.6mm) for testing gemstones as small as 0.02ct

Metal alert buzzer to ensure that probe tip is in contact with gemstone during testing

Large easy-to-read analog dial with 16 colored gemstones

Digital index LED display for reading of reflectivity value of the gemstone (based on conversion from refractive index)

Built-in simulant reflective properties reference chart

Diamond simulant set for calibration of reflectivity meter (optional item provided by Presidium)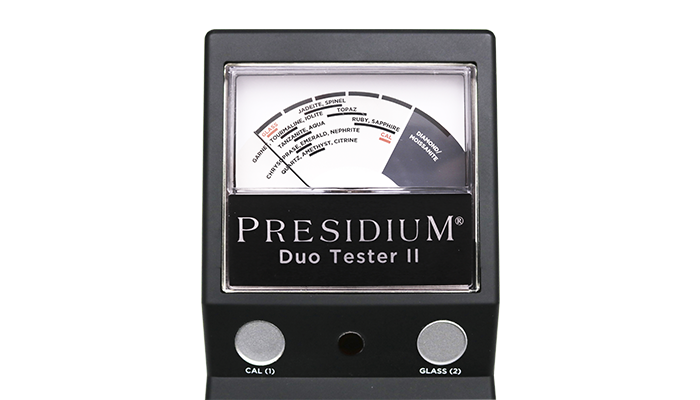 Benefits
Tests gemstones using dual tests of thermal and reflectivity properties to know more about the gemstone

Accurate and consistent tests for both indoors and outdoors operation

Tests gemstones as small as 0.02ct

Clear and visible display for ease of reading measurements for both thermal and reflective test

No waiting time between tests

Simple and easy to use

Runs on 5 AA batteries or with recommended Presidium AC adaptor
Specification
Power & Battery

5 x AA alkaline batteries (approximately 3 hours of continuous use)

AC port to be used with appropriate Presidium Power Adaptor (Included)

Recommended Operating Conditions

Optimal Operating Temperature: 18°C – 27°C (65°F – 80°F)

Storage Temperature: 10°C – 51°C (50°F – 124°F)

Dimension & Weight


Length: 172mm (6.77 inches)

Width: 77mm (3.03 inches)

Height: 85mm (3.34 inches)

Weight

Weight (without batteries): 260grams (9.17 oz)