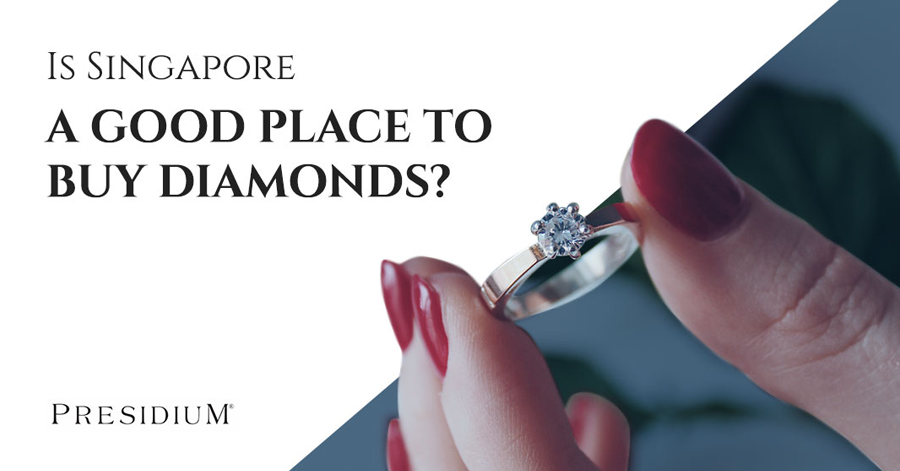 A 110-carat yellow diamond was showcased at the Jewelfest 2012 exhibition in Singapore—putting the city-state on the map alongside Geneva, New York, London, and other established diamond markets in the world. Valued at up to US$15 million at that time, the Yellow Dragon Diamond generated global interest enough to add spark and fuel a now-thriving precious stones industry in Singapore.
Centrally located in Southeast Asia, Singapore is strategically positioned as a regional diamond centre—a convenient and accessible sourcing hub in Asia-Pacific. Point in fact, India and Hong Kong emerged as the top exporters of diamonds (unmounted and without setting) from Singapore.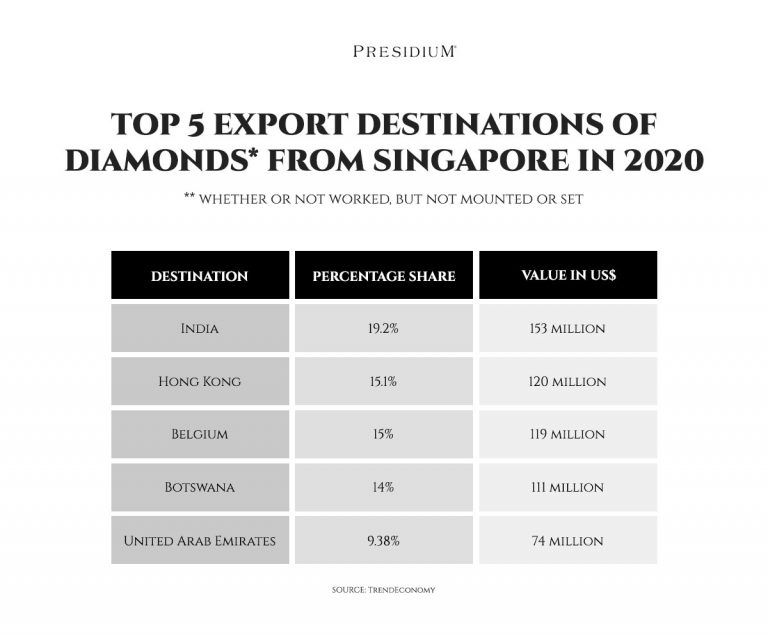 Additionally, the creation of Singapore Diamond Investment Exchange (SDiX) further builds the country's authority as a major player in the global diamond industry. SDiX brings together diamond suppliers and financial investors through a global trading platform, with the objective to "standardise global trading in diamonds as an asset class and to unlock new investment opportunities for investors around the world." SDiX membership is open to all companies that meet its stringent requirements.
Generally, Singapore has much tighter retail control and stringent sanctions against fraudsters and offenders, which are usually incentives enough to keep businesses honest, but still not a guarantee. This blog outlines the reasons why sourcing diamonds from Singapore would benefit jewelry store owners, avid collectors, and people who invest in these precious stones as a business or for legacy wealth management. In the same vein, we will provide you with useful tips on where to shop, how much to shell out, and how to ensure the authenticity of your investment with the help of industry-trusted and state-of-the-art diamond testers.
The 4Cs of Buying a Diamond
Most people are familiar with the 4Cs—Color, Clarity, Cut, and Carat—which are the universal standards for assessing a diamond's quality. The 4Cs interdependently impact the beauty, brilliance, and balance that makes a diamond valuable. In a nutshell, these are:
Color:

The more transparent and colorless a diamond, the better

Clarity:

A diamond with the least imperfections and blemishes is preferable

Cut:

The quality of its angles, facets, and finishing factor into a diamond's value

Carat:

The weight of diamonds—the higher the carat, the more expensive it is
The GIA created this standard and other scientific procedures for determining diamond quality. GIA is an industry institution—a globally recognized independent nonprofit organization on gem research and education. Among GIA's main functions is grading diamonds and providing objective and unbiased diamond quality assessments. One way to be sure of a stone's quality is to look for GIA-graded diamonds with the accompanying GIA Diamond Grading Report.

Then again, not all diamonds in the market are GIA-graded. And in this day and age of digital deception and dark web duplicity, an additional layer of authentication wouldn't hurt, especially when it is your hard-earned money and credibility at stake.
Diamond Sellers in Singapore
ION Orchard is internationally recognized as one of Singapore's leading shopping malls. It houses at least 20 shops that carry diamond jewelry, mainly along the Jewellery Street section. Several big names in diamonds can be found here, including Harry Winston, Chaumet, Van Cleef, and Tiffany.
Orchard Road is a veritable treasure trove of upscale retail shops, specialty boutiques, and renowned department stores. Along the 1.6-mile length of this popular boulevard, one can find the country's top diamond and gemstone retailers alongside international brands like Cartier.
If you're feeling adventurous and are interested in unique finds, there are a smattering of jewelry shops in Little India and Chinatown albeit with an entirely different vibe from those on Orchard. Little India is located east of the Singapore River, north of Kampong Glam while Chinatown is just across, to the west. Both are in Rochor urban planning area. If you're not familiar with the area, it's best to take a reliable diamond tester and a trusty local guide with you.
However, if you're in a rush or are reluctant to explore too many options, you can head straight to any of the top jewelry shops in Singapore. At the head of the list is SK Jewellery, with more than 30 outlets across Singapore plus an online store with a vast array of product offerings.
Meanwhile, the precedent for online diamond shopping was set by Singapore-based Luxiee—the world's first and only online diamond marketplace. Connecting consumers directly to suppliers, the online diamond marketplace also offers GIA-certified diamonds through a digital platform, which makes the stones more affordable and accessible.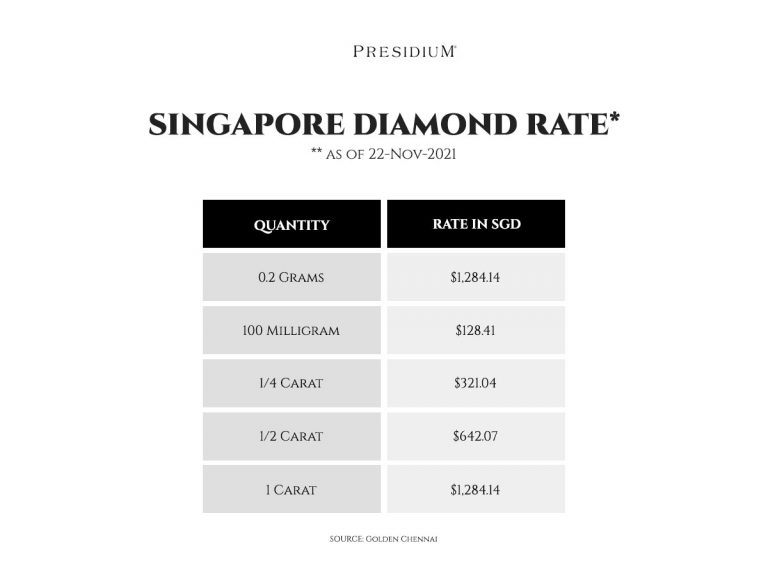 Why You Need Diamond Testers
Even the most seasoned jeweler would find it nearly impossible to differentiate lab-grown from natural diamonds. For that, you would need a diamond tester, which can tell if the gem is real or fake by measuring its thermal or electrical properties—i.e., the speed at which heat or electricity travels through the stone—noting that different gemstones tolerate different amounts of heat, pressure, or stress.
If you're investing in diamonds, it's critical to use a diamond tester on every stone of every piece of jewelry that passes through your hands. A reliable and accurate diamond tester is the most important tool you would need to verify if the stone is genuine and not a diamond simulant or a lab-grown diamond.
There are thousands of gemological instrument manufacturers all over the world, which makes it difficult to decide which brand to trust. When vetting the instruments and technology offered by these companies, it's only logical to assume that the industry pioneers would have the advantage.
One such industry forerunner is Presidium Instruments Pte Ltd—the world's first company to launch groundbreaking gemological instruments. Incorporated in 1979, Presidium is the global leader in gemological instruments that test and measure diamonds and gemstones.