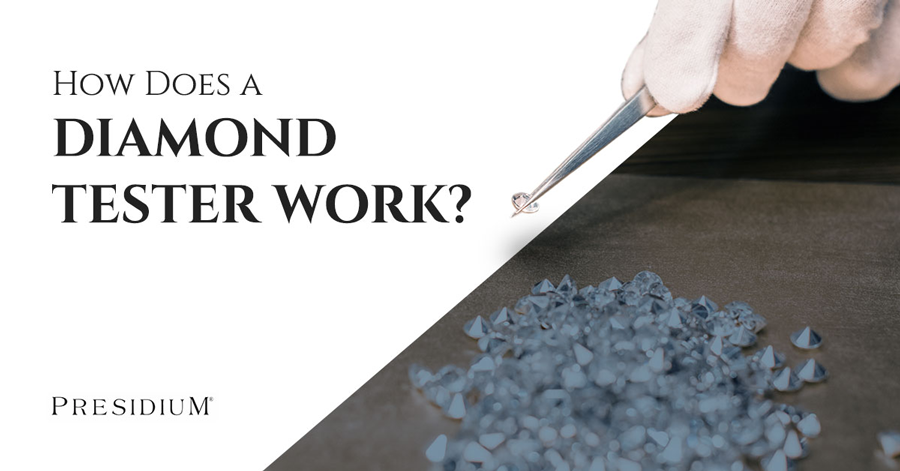 A diamond tester works by checking the properties of a diamond to determine its authenticity. It's an essential tool for a professional jeweler, avid collector, or anyone who wants to know if a gemstone is real or fake. There are other ways to examine the genuineness of a diamond—heating the stone to see if it shatters; doing the water, UV light, or fog test; or checking the quality of the stone's settings, among others. But using a diamond tester is by far the most reliable and efficient method.
It's important to note that heat and electricity pass through a diamond in a different way than it would through cubic zirconia or glass. Moreover, a standard diamond tester does not work on lab-grown or man-made diamonds, which are chemically identical to natural diamonds. Lab-grown diamonds have the same chemical makeup and physical elements as real diamonds.
Even the most seasoned jeweler would find it nearly impossible to differentiate man-made diamonds from those mined from the earth. For that, you would need a PRESIDIUM DIAMOND VERIFICATION INSTRUMENT®, which can distinguish Type IIa colourless diamonds from natural Type IIa colourless diamond, as well as CVD/HPHT lab-grown diamonds or moissanites.
Meanwhile, the latest models of diamond testers available on the market today combine heat and electricity testing for greater accuracy. However, as technology advances rapidly, the best way to ensure that you're getting an accurate instrument is to turn to the most trusted manufacturers.
What is a diamond tester?
A diamond tester is a portable device with a LED display, indicators, and a small needle-like probe at the tip. When the probe is placed on the gemstone that's being tested, the device would typically emit a sound and show the result on its display, in a matter of seconds.
Diamond testers can tell if the gem is real or fake by measuring its thermal or electrical properties—i.e., the speed at which heat or electricity travels through the stone—noting that different gemstones tolerate different amounts of heat, pressure, or stress.
If you're a jeweler, it's critical to use a diamond tester on every stone of every piece of jewelry that passes through your hands. First and foremost, check the diamond for authenticity in front of the customer as you receive them.
Why Presidium for diamond testers?
There are thousands of gemological instrument manufacturers all over the world, which makes it difficult to decide which brand to trust. When vetting the instruments and technology offered by these companies, it's only logical to assume that the industry pioneers would have the advantage.
One such industry forerunner is Presidium Instruments Pte Ltd—the world's first company to launch groundbreaking gemological instruments. Incorporated in 1979, Presidium is the global leader in gemological instruments that test and measure diamonds and gemstones.
Our customer base includes gemological institutes, laboratories, jewelry manufacturers, diamond appraisal businesses, and retail jewelers. Presidium ensures secure transactions, fast delivery, and products that are always in stock.
Diamond verification instruments from Presidium
Presidium is recognized as the world's first brand to launch groundbreaking gemological instruments. Our line of Diamond Verification Instruments are as follows:
The Presidium Synthetic Diamond Screener II (SDS II) is a PRESIDIUM DIAMOND VERIFICATION INSTRUMENT®—a registered trademark of Presidium Instruments Pte Ltd. The SDS II is used to distinguish Type IIa colourless diamonds from natural Type Ia colourless diamonds by measuring the stones' UV light transmittance. The unit gives clear and accurate results within two seconds and is suitable for both loose and mounted stones with an open-backed setting, as small as 0.02ct.
Users will need to ensure that the stone tested with the SDS II is a known colorless diamond. We recommend using the Presidium Multi Tester III first to determine if an unknown colorless stone is a Diamond first, before testing it with the SDS II to check if it is a Natural or Type IIa Diamond (CVD/HPHT Diamond)
Another PRESIDIUM DIAMOND VERIFICATION INSTRUMENT®, the ARI by Presidium is a handheld diamond and moissanite screener that tests on colourless diamonds and moissanites from D to J colour.
The ARI can be used on loose and mounted stones as small as 0.02ct. It works well with the Presidium Diamond Mate Tester (PDMT-A) to easily identify natural diamonds, lab-grown diamonds, moissanite, and diamond simulants.
Diamond and moissanite testers from Presidium
In our more than 40 years of experience, Presidium has built the expertise and authority to guarantee the reliability of our technology. Our line of Diamond and Moissanite Testers are as follows:
The Presidium Diamond Mate (PDMT-A) is an entry level handheld instrument that distinguishes colorless diamonds from diamond simulants based on thermal conductivity. However, the PDMT-A is unable to distinguish diamonds from moissanites and as such, it is a complementary product to ARI by Presidium, which allows users to further distinguish diamond simulants such as colorless sapphire and cubic zirconia from unknown colorless stones. As a first step, users can test an unknown colorless stone using the PDMT-A. Upon a positive "Diamond" reading, users can then use ARI to test if the stone is a natural diamond, potential lab-grown CVD/HPHT diamond, or moissanite.
The Presidium Moissanite Tester II (PMT II) is an entry-level handheld instrument that distinguishes colorless diamonds from colorless moissanites based on their electrical properties. The PMT II is recommended to be used after the indication of a positive test result from the use of Presidium Thermal Conductivity testers (such as the Presidium Diamond Mate Tester). PMT II is not meant to distinguish between coloured gemstones or any other types of synthetic Diamonds.
The Presidium Multi Tester III (PMUT III) is a pocket-sized instrument featuring a retractable 0.6mm probe tip, which is the smallest by today's industry standards. It identifies colorless diamonds and moissanites based on their thermal and electrical properties. Showcasing a new ergonomic design with a rubberized anti-slip grip, the unit can instantly distinguish natural colorless diamonds from moissanites, cubic zirconia, and other diamond simulants, including colorless sapphire.
The Adamas by Presidium distinguishes diamonds from moissanites and other diamond simulants through thermal and electrical conductivity. It is the world's first diamond and moissanite tester with a replaceable tip, and a micro probe tip—for authenticating diamonds as small as 0.01 carats. In the long run, a worn out or damaged probe can simply be replaced; you don't have to buy a new diamond tester. It's also not necessary to ship the item back to Presidium Service Center, thereby reducing or eradicating any equipment downtime. Its retractable thermoelectric probe tip ensures constant pressure between the probe and gemstone, which enhances the accuracy of the results.
The SAM by Presidium is the latest technological advancement in handheld diamond and moissanite testers. It can identify diamonds against a wider range of moissanites, including the new "low conductivity moissanite" and other diamond simulants through its highly sensitive thermoelectric probe. With the industry's fastest start-up and testing time, SAM only utilizes technology that does not compromise user safety and does not require harmful ultraviolet (UV) light.